Reddish rock powder from the first hole drilled into a Martian mountain [Confidence Hills] by NASA's Curiosity rover has yielded the mission's first confirmation of a mineral mapped from orbit.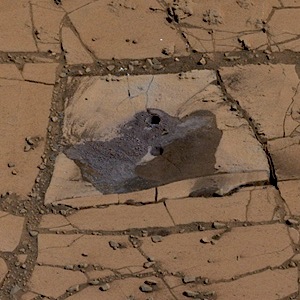 "This connects us with the mineral identifications from orbit, which can now help guide our investigations as we climb the slope and test hypotheses derived from the orbital mapping," said Curiosity Project Scientist John Grotzinger, of the California Institute of Technology in Pasadena. [More at link]
Curiosity's latest raw images (from all cameras) and its latest location map.