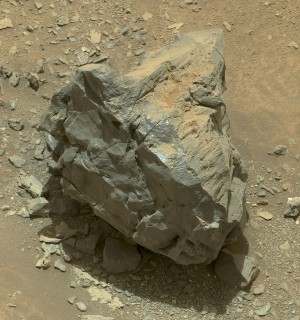 Sol 940, March 29, 2015. The Mastcam, using its longer (100mm) focal length lens, shot a 9-frame composite of the target rock Kanosh. (Click the image to load a 680 KB version in a new tab.)
Kanosh may be a chunk of the local cap rock standing above the Garden City and Pahrump Hills outcrops. Some of its surface has a shiny texture, while other parts do not.
Sol 940 raw images (from all cameras), and Curiosity's latest location map.