Sol 957, April 16, 2015. Three left-side Navcam frames combine to detail Curiosity's course ahead, as it traverses through Artist's Drive. (Click on the image above to open a larger version in a new browser tab.)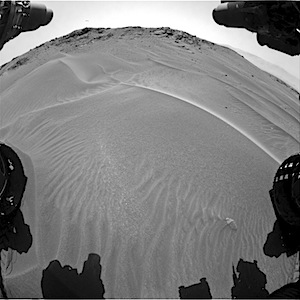 Taken at almost the same time, one of the front Hazcams (left) shows dune ripples from close up.
Sol 957 raw images (from all cameras), and Curiosity's latest location map.