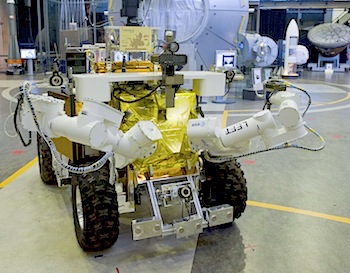 Car trouble is never good – especially on the Red Planet. An actual robotic vehicle experienced wheel failure during a simulated Mars rover journey, in order to test the ability of prototype 'electronic partners' to help human astronauts.
"The distance, and consequent signal delay, involved in deep-space missions mean that the kind of realtime mission control currently offered to astronauts in orbit is not possible," explains ESA's Mikael Wolff, overseeing the Mission Execution Crew Assistant – Human E-partner Agent Robot Teaming (MECA-Heart) project.
"Instead, we need to find ways of making knowledge and support directly available to the crew, who must make quick decisions about unexpected problems under heavy time pressure, in a hostile environment.
"The approach we are working on involves intelligent electronic partners, called ePartners, which can support crews by not only relating all necessary information but also, by coming to higher-level conclusions, actively support the decision-making process." [More at link]