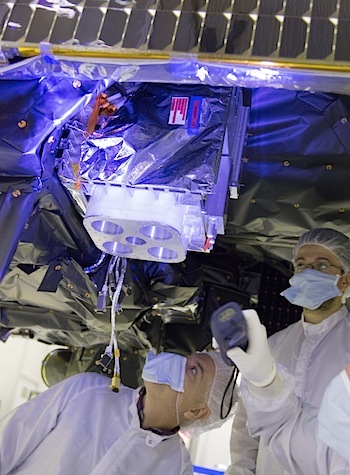 The better of two flight models of FREND, the Fine Resolution Epithermal Neutron Detector, has been installed on the Trace Gas Orbiter during the launch preparation activities in Baikonur.
The FREND instrument is one of four science instruments carried by the Trace Gas Orbiter. It will map hydrogen on the surface down to a metre deep, revealing deposits of water-ice near the surface. FREND's mapping of shallow subsurface water-ice will be up to 10 times better than existing measurements. It is one of two instruments provided by the Space Research Institute (IKI) of the Russian Academy of Sciences.
Tests carried out on the FREND flight model, just before leaving Cannes, indicated that one of the four detectors in the instrument showed some elevated noise, which would have led to slightly degraded performance. Since there was a fully tested flight spare available, and there was a little margin in the assembly and integration schedule, the ExoMars team, jointly with their Russian partners, decided to replace that model on the Trace Gas Orbiter with the better flight spare model. [More at links]

Related: ESA photojournal of ExoMars 2016 (Trace Gas Orbiter and Schiaparelli landing module) at Baikonur, Russia.