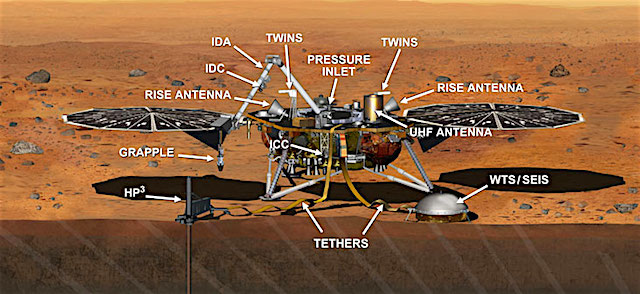 NASA is moving forward with a spring 2018 launch of its InSight mission to study the deep interior of Mars, following final approval this week by the agency's Science Mission Directorate.
The Interior Exploration using Seismic Investigations, Geodesy and Heat Transport (InSight) mission was originally scheduled to launch in March of this year, but NASA suspended launch preparations in December due to a vacuum leak in its prime science instrument, the Seismic Experiment for Interior Structure (SEIS).
The new launch period for the mission begins May 5, 2018, with a Mars landing scheduled for Nov. 26, 2018. The next launch opportunity is driven by orbital dynamics, so 2018 is the soonest the lander can be on its way.
"Our robotic scientific explorers such as InSight are paving the way toward an ambitious journey to send humans to the Red Planet," said Geoff Yoder, acting associate administrator for NASA's Science Mission Directorate, in Washington. "It's gratifying that we are moving forward with this important mission to help us better understand the origins of Mars and all the rocky planets, including Earth." [More at link]