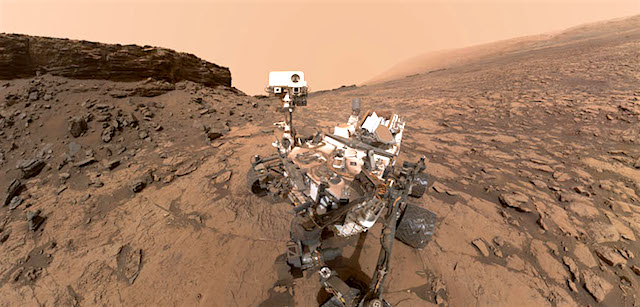 After collecting drilled rock powder in arguably the most scenic landscape yet visited by a Mars rover, NASA's Curiosity mobile laboratory is driving toward uphill destinations as part of its two-year mission extension that commenced Oct. 1.
The destinations include a ridge capped with material rich in the iron-oxide mineral hematite, about a mile-and-a-half (two-and-a-half kilometers) ahead, and an exposure of clay-rich bedrock beyond that.
These are key exploration sites on lower Mount Sharp, which is a layered, Mount-Rainier-size mound where Curiosity is investigating evidence of ancient, water-rich environments that contrast with the harsh, dry conditions on the surface of Mars today.
"We continue to reach higher and younger layers on Mount Sharp," said Curiosity Project Scientist Ashwin Vasavada, of NASA's Jet Propulsion Laboratory, Pasadena, California. "Even after four years of exploring near and on the mountain, it still has the potential to completely surprise us." [More at link]