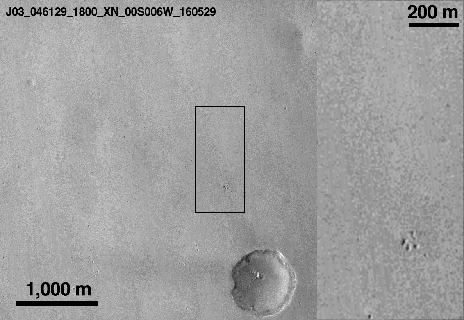 NASA's Mars Reconnaissance Orbiter has identified new markings on the surface of the Red Planet that are believed to be related to ESA's ExoMars Schiaparelli entry, descent and landing technology demonstrator module.
Schiaparelli entered the martian atmosphere at 14:42 GMT on 19 October for its 6-minute descent to the surface, but contact was lost shortly before expected touchdown. Data recorded by its mothership, the Trace Gas Orbiter, are currently being analysed to understand what happened during the descent sequence.
In the meantime, the low-resolution CTX camera on-board the Mars Reconnaissance Orbiter (MRO) took pictures of the expected touchdown site in Meridiani Planum on 20 October as part of a planned imaging campaign.
The image released today has a resolution of 6 metres per pixel and shows two new features on the surface when compared to an image from the same camera taken in May this year. [More at link]