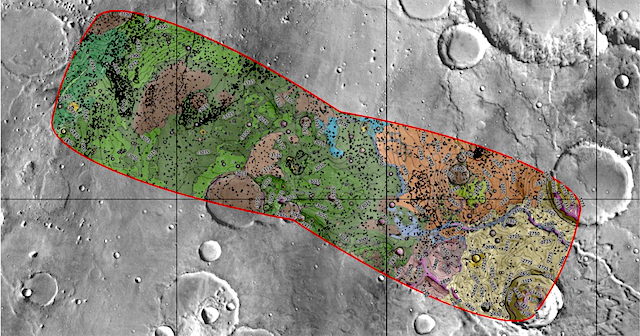 Two ancient sites on Mars that hosted an abundance of water in the planet's early history have been recommended as the final candidates for the landing site of the 2020 ExoMars rover and surface science platform: Oxia Planum and Mawrth Vallis.
A primary technical constraint is that the landing site be at a suitably low level, so that there is sufficient atmosphere to help slow the landing module's parachute descent. Then, the 120 x 19 km landing ellipse should not contain features that could endanger the landing, the deployment of the surface platform ramps for the rover to exit, and driving of the rover. This means scrutinising the region for steep slopes, loose material and large rocks. (…)
After a two-day meeting with experts from the Mars science community, industry, and ExoMars project, during which the scientific merits of the three sites were presented alongside the preliminary compliance status with the engineering constraints, it was concluded that Mawrth Vallis will be the second site to be evaluated in more detail.
Around a year before launch, the final decision will be taken on which site will become the ExoMars 2020 landing target. [More at links]