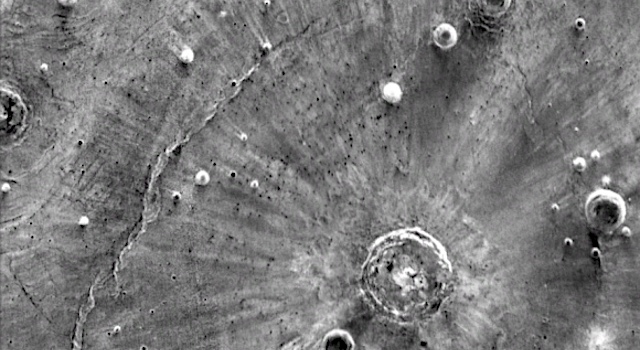 Plumes of vapor generated by ancient impacts on Mars created tornado-like winds possibly swirling at more than 500 miles per hour, which explain mysterious streaks seen near large impact craters on the Martian surface.
In looking at NASA images of Mars a few years ago, Brown University geologist Peter Schultz noticed sets of strange bright streaks emanating from a few large-impact craters on the planet's surface. The streaks are odd in that they extend much farther from the craters than normal ejecta patterns, and they are only visible in thermal infrared images taken during the Martian night.
Using geological observation, laboratory impact experiments and computer modeling of impact processes, Schultz and Brown graduate student Stephanie Quintana have offered a new explanation for how those streaks were formed. The researchers show that tornado-like wind vortices — generated by crater-forming impacts and swirling at 500 miles per hour or more — scoured the surface and blasted away dust and small rocks to expose the blockier surfaces beneath.
"This would be like an F8 tornado sweeping across the surface," Schultz said. "These are winds on Mars that will never be seen again unless another impact."
The research is published online in the journal Icarus.
Schultz says he first saw the streaks during one of his "tours of Mars." In his downtime between projects, he pulls up random images from NASA's orbital spacecraft just to see if he might spot something interesting. In this case, he was looking at infrared images taken during the Martian nighttime by the THEMIS instrument, which flies aboard the Mars Odyssey orbiter. [More at links]