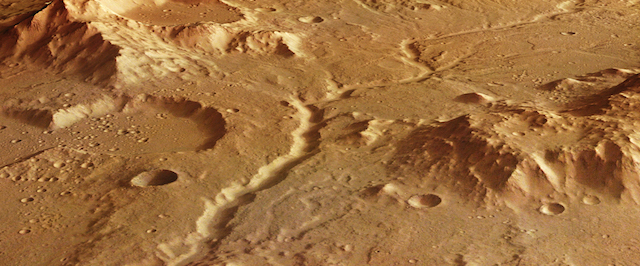 A dried-out river valley with numerous tributaries is seen in this recent view of the Red Planet captured by ESA's Mars Express.
This section of the Libya Montes region, which sits on the equator at the boundary of the southern highlands and northern lowlands, was imaged on 21 February 2017 by the spacecraft's high-resolution stereo camera.
The Libya Montes highlands mountains, one of the oldest regions on Mars, were uplifted during the formation of the 1200 km-wide Isidis impact basin some 3.9 billion years ago, seen at the north of the context map.
The features seen across the broader region indicate both flowing rivers and standing bodies of water such as lakes or even seas that were present in the early history of Mars.
The prominent river channel that runs from south to north (left to right in the main colour image) is thought to have cut through the region around 3.6 billion years ago. It apparently originates from the impact crater in the south, breaching its crater wall and flowing towards the north, navigating the hummocky mountains of the local topography… [More at link]