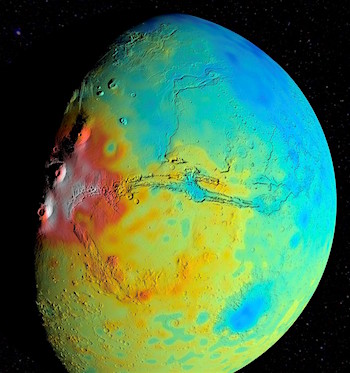 NASA scientists have found evidence that Mars' crust is not as dense as previously thought, a clue that could help researchers better understand the Red Planet's interior structure and evolution.
A lower density likely means that at least part of Mars' crust is relatively porous. At this point, however, the team cannot rule out the possibility of a different mineral composition or perhaps a thinner crust.
"The crust is the end-result of everything that happened during a planet's history, so a lower density could have important implications about Mars' formation and evolution," said Sander Goossens of NASA's Goddard Space Flight Center in Greenbelt, Maryland. Goossens is the lead author of a Geophysical Research Letters paper describing the work.
The researchers mapped the density of the Martian crust, estimating the average density is 2,582 kilograms per meter cubed (about 161 pounds per cubic foot). That's comparable to the average density of the lunar crust. Typically, Mars' crust has been considered at least as dense as Earth's oceanic crust, which is about 2,900 kilograms per meter cubed (about 181 pounds per cubic foot)… [More at links]