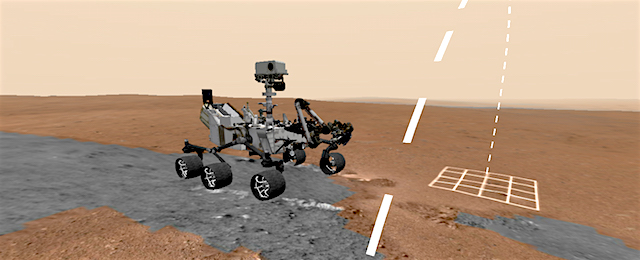 When NASA scientists want to follow the path of the Curiosity rover on Mars, they can don a mixed-reality headset and virtually explore the Martian landscape.
Starting today, everyone can get a taste of what that feels like. NASA's Jet Propulsion Laboratory in Pasadena, California, collaborated with Google to produce Access Mars, a free immersive experience. It's available for use on all desktop and mobile devices and virtual reality/augmented reality (VR/AR) headsets. That includes mobile-based virtual reality devices on Apple and Android.
The experience was adapted from JPL's OnSight software, which assists scientists in planning rover drives and even holding meetings on Mars. Imagery from NASA's Curiosity rover provided the terrain, allowing users to wander the actual dunes and valleys explored by the spacecraft. Since being rolled out to JPL's scientists in 2015, OnSight has made studying Martian geology as intuitive as turning your head and walking around.
Access Mars lets anyone with an internet connection take a guided tour of what those scientists experience. A simple walkthrough explains what the Curiosity rover does and details its dramatic landing in 2012. Users also can visit four sites that have been critical to NASA's Mars Science Laboratory mission: Curiosity's landing site; Murray Buttes; Marias Pass and Pahrump Hills. Additionally, the rover's latest location on lower Mt. Sharp will be periodically updated to reflect the mission's ongoing progress. [More at link]