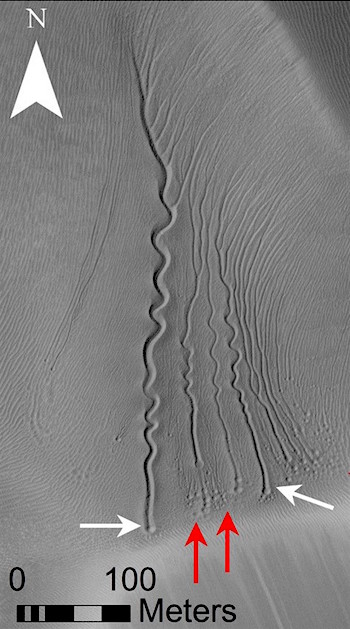 Researchers based millions of kilometres from Mars have unveiled new evidence for how contemporary features are formed on the Red Planet.
Their innovative lab-based experiments on carbon dioxide (CO2) sublimation – the process by which a substance changes from a solid to a gas without an intermediate liquid phase – suggest the same process is responsible for altering the appearance of sand dunes on Mars.
The research was led by a Trinity College Dublin team comprising PhD candidate in the School of Natural Sciences, Lauren Mc Keown, and Dr Mary Bourke, along with Professor Jim McElwaine of Durham University. Their work, which describes phenomena unlike anything seen on Earth, has just been published in the Nature journal Scientific Reports.
Lauren Mc Keown said: "We've all heard the exciting news snippets about the evidence for water on Mars. However, the current Martian climate does not frequently support water in its liquid state — so it is important that we understand the role of other volatiles that are likely modifying Mars today."
"Mars' atmosphere is composed of over 95% CO2, yet we know little about how it interacts with the surface of the planet. Mars has seasons, just like Earth, which means that in winter, a lot of the CO2 in the atmosphere changes state from a gas to a solid and is deposited onto the surface in that form. The process is then reversed in the spring, as the ice sublimates, and this seasonal interplay may be a really important geomorphic process." (…)
The researchers designed and built a low humidity chamber and placed CO2 blocks on the granular surface. The experiments revealed that sublimating CO2 can form a range of furrow morphologies that are similar to those observed on Mars… [More at links]