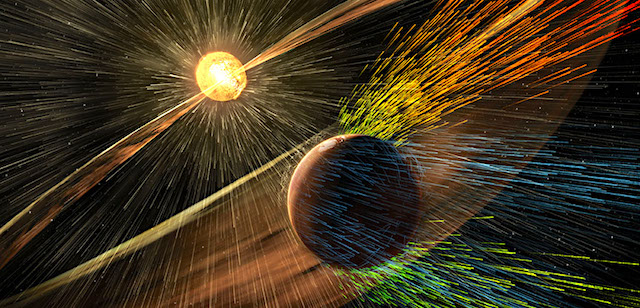 How long might a rocky, Mars-like planet be habitable if it were orbiting a red dwarf star? It's a complex question but one that NASA's Mars Atmosphere and Volatile Evolution mission can help answer.
"The MAVEN mission tells us that Mars lost substantial amounts of its atmosphere over time, changing the planet's habitability," said David Brain, a MAVEN co-investigator and a professor at the Laboratory for Atmospheric and Space Physics at the University of Colorado Boulder. "We can use Mars, a planet that we know a lot about, as a laboratory for studying rocky planets outside our solar system, which we don't know much about yet."
At the fall meeting of the American Geophysical Union on Dec. 13, 2017, in New Orleans, Louisiana, Brain described how insights from the MAVEN mission could be applied to the habitability of rocky planets orbiting other stars.
MAVEN carries a suite of instruments that have been measuring Mars' atmospheric loss since November 2014. The studies indicate that Mars has lost the majority of its atmosphere to space over time through a combination of chemical and physical processes. The spacecraft's instruments were chosen to determine how much each process contributes to the total escape.
In the past three years, the Sun has gone through periods of higher and lower solar activity, and Mars also has experienced solar storms, solar flares and coronal mass ejections. These varying conditions have given MAVEN the opportunity to observe Mars' atmospheric escape getting cranked up and dialed down. [More at link]