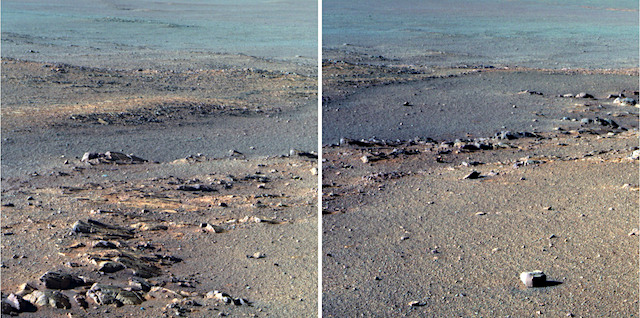 January 5, 2018: Opportunity Beats Winter, Wraps 2017, and Heads for 14th Anniversary: With the Martian winter on the run at Endeavour Crater, the Mars Exploration Rovers (MER) mission cruised closer to its 14th anniversary of exploring the Red Planet in December as Opportunity deliberated a distinctive "fork in the road" deep in Perseverance Valley and wrapped another record year.
Every year Opportunity has been exploring Mars has been one of challenges and rewards and 2017 was no exception, except perhaps it was more intense than most. The veteran robot field geologist was scaling the steep, sometimes slippery-with-gravel slopes of Cape Tribulation on her way to the valley when the year began. Now, as 2017 comes to an end, the robot field geologist is deep inside Perseverance and deep into the mission's research, the centerpiece of the team's tenth extended mission, looking to go farther back in Martian geologic time and uncover buried scientific treasure.
It hasn't exactly been a walk in the park. "From Spirit Mound and up to the rim and then back down Perseverance Valley, the topographic profile from 2017 is on a par with what we did with Spirit when we climbed Husband Hill back in 2005," MER Principal Investigator Steve Squyres, of Cornell University, reflected as December came to an end. "We did the most challenging, difficult driving over some of the most rugged terrain we've ever done with this vehicle all these years in."
(…) "And the rover is still going strong and still doing great science," said Squyres.
In fact, Opportunity is going where no robot on Mars has gone before. "Perseverance Valley is a truly enigmatic feature that is unlike anything we've ever seen on Mars or been able to drive to and across," said Deputy Principal Investigator Ray Arvidson, of Washington University St. Louis. "The work we do here will be the first ground-based exploration of a preserved valley system on Mars. It's like another new mission."
Cutting west to east and forming a broad notch in the remnants of the crater's western rim at Cape Byron, Perseverance stretches downhill for the length of about two American football fields (about 220 meters or around 720 feet), at a slope of about 15 to 17 degrees, all the way to the floor of the crater.
Positioned on a north-facing slope in the valley's south wall where she could angle herself toward the Sun and soak up the winter Sun,Opportunity spent the month of December imaging at a couple of different sites about halfway down the length of the valley. Her sights and her camera lenses were primarily focused just downhill where a large trough or channel splits into two paths and creates a 'fork in the road.' [See image at top]
"This is a braided channel and it divides and it comes back together," said Squyres. "We stopped at one of the divides here for the Christmas holidays and to take a break for a while." [Much more at link]