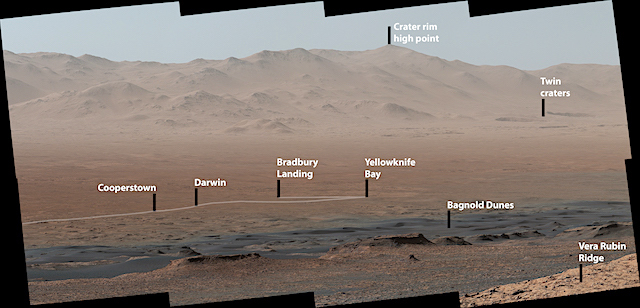 A panoramic image that NASA's Curiosity Mars rover took from a mountainside ridge provides a sweeping vista of key sites visited since the rover's 2012 landing, and the towering surroundings.
The view from "Vera Rubin Ridge" on the north flank of Mount Sharp encompasses much of the 11-mile (18-kilometer) route the rover has driven from its 2012 landing site, all inside Gale Crater. One hill on the northern horizon is about 50 miles (about 85 kilometers) away, well outside of the crater, though most of the scene's horizon is the crater's northern rim, roughly one-third that distance away and 1.2 miles (2 kilometers) above the rover.
Curiosity's Mast Camera, or Mastcam, took the component images of the panorama three months ago while the rover paused on the northern edge of Vera Rubin Ridge. The mission has subsequently approached the southern edge of the ridge and examined several outcrop locations along the way.
Last week, the Curiosity team on Earth received copious new images from the rover through a record-setting relay by NASA's MAVEN orbiter — surpassing a gigabit of data during a single relay session from Mars for the first time in history.
The team is preparing to resume use of Curiosity's drill for acquiring powdered rock samples to be analyzed by laboratory instruments inside the rover, more than a year after the most recent of the 15 times the drill has pulled sample material from Martian rocks. (…)
"Even though Curiosity has been steadily climbing for five years, this is the first time we could look back and see the whole mission laid out below us," said Curiosity Project Scientist Ashwin Vasavada of NASA's Jet Propulsion Laboratory, Pasadena, California. "From our perch on Vera Rubin Ridge, the vast plains of the crater floor stretch out to the spectacular mountain range that forms the northern rim of Gale Crater." The rover photographed the scene shortly before northern Mars' winter solstice, a season of clear skies, gaining a sharp view of distant details. [More at link]