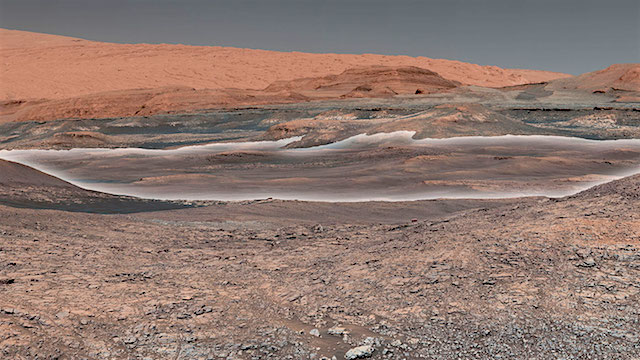 NASA's Mars Curiosity rover just hit a new milestone: its two-thousandth Martian day, or sol, on the Red Planet. An image mosaic taken by the rover in January offers a preview of what comes next.
Looming over the image is Mount Sharp, the mound Curiosity has been climbing since September 2014. In the center of the image is the rover's next big, scientific target: an area scientists have studied from orbit and have determined contains clay minerals.
The formation of clay minerals requires water. Scientists have already determined that the lower layers of Mount Sharp formed within lakes that once spanned Gale Crater's floor. The area ahead could offer additional insight into the presence of water, how long it may have persisted, and whether the ancient environment may have been suitable for life.
Curiosity's science team is eager to analyze rock samples pulled from the clay-bearing rocks seen in the center of the image. The rover recently started testing its drill again on Mars for the first time since December 2016. A new process for drilling rock samples and delivering them to the rover's onboard laboratories is still being refined in preparation for scientific targets like the area with clay minerals. [More at link]