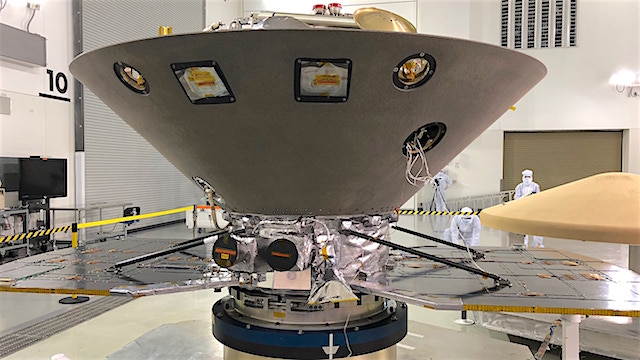 In the early morning hours of May 5, millions of Californians will have an opportunity to witness a sight they have never seen before – the historic first interplanetary launch from America's West Coast. On board the 189-foot-tall (57.3-meter) United Launch Alliance Atlas V rocket will be NASA's InSight spacecraft, destined for the Elysium Planitia region located in Mars' northern hemisphere. The May 5 launch window for the InSight mission opens at 4:05 am PDT (7:05 EDT, 11:05 UTC) and remains open for two hours.
"If you live in Southern California and the weather is right, you'll probably have a better view of the launch than I will," said Tom Hoffman, project manager for NASA's InSight mission from the Jet Propulsion Laboratory in Pasadena, California. "I'll be stuck inside a control room looking at monitors — which is not the best way to enjoy an Atlas 5 on its way to Mars." (…)
InSight's launch period is May 5 through June 8, 2018, with multiple launch opportunities over windows of approximately two hours each date. Launch opportunities are set five minutes apart during each date's window.
Additional information on viewing the launch in person is at: https://mars.nasa.gov/insight/mission/timeline/launch/watch-in-person/.
Live televised coverage of the launch will be available at: https://www.nasa.gov/live. [More at links]