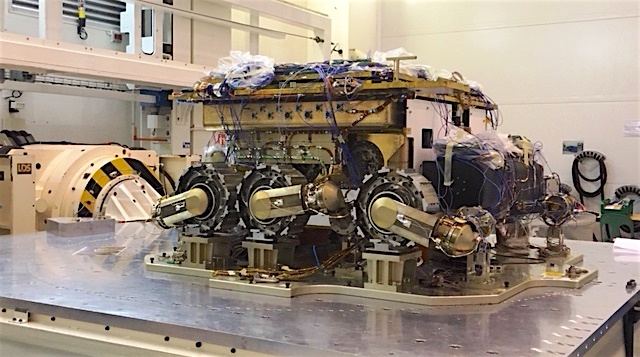 A representative model of the ExoMars rover that will land on Mars in 2021 is beginning a demanding test campaign that will ensure it can survive the rigours of launch and landing, as well as operations under the environmental conditions of Mars.
ExoMars is a joint endeavour between ESA and Roscosmos, with the Trace Gas Orbiter already at Mars and beginning its science mission to look for atmospheric gases that may be linked to active geological or biological processes. The orbiter will relay the data collected by the rover back to Earth, a capability already demonstrated with communications relays to NASA's rovers currently on Mars.
The ExoMars rover will be the first of its kind to drill below the surface – down to 2 m – and determine if evidence of life is buried underground, protected from the destructive radiation that impinges the surface today.
Like any space mission, the rover's mechanical structure, along with its electrical and thermal components and its interfaces with the scientific instruments, have to be tested to check they can survive their journey in space and operations at the destination.  [More at link]