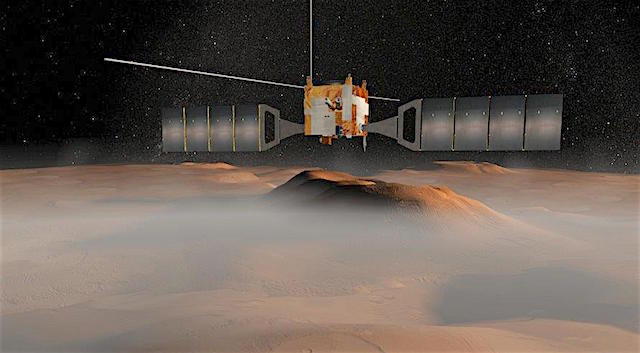 New research using a decade of data from ESA's Mars Express has found clear signs of the complex martian atmosphere acting as a single, interconnected system, with processes occurring at low and mid levels significantly affecting those seen higher up.
Understanding the martian atmosphere is a key topic in planetary science, from its current status to its past history. Mars' atmosphere continuously leaks out to space, and is a crucial factor in the planet's past, present, and future habitability – or lack of it. The planet has lost the majority of its once much denser and wetter atmosphere, causing it to evolve into the dry, arid world we see today.
However, the tenuous atmosphere Mars has retained remains complex, and scientists are working to understand if and how the processes within it are connected over space and time.
A new study [published in the Journal of Geophysical Research] based on 10 years of data from the radar instrument on Mars Express now offers clear evidence of a sought-after link between the upper and lower atmospheres of the planet. While best known for probing the interior of Mars via radar sounding, the instrument has also gathered observations of the martian ionosphere since it began operating in 2005.
"The lower and middle levels of Mars' atmosphere appear to be coupled to the upper levels: there's a clear link between them throughout the martian year," says lead author Beatriz Sánchez-Cano of the University of Leicester, UK…. [More at links]