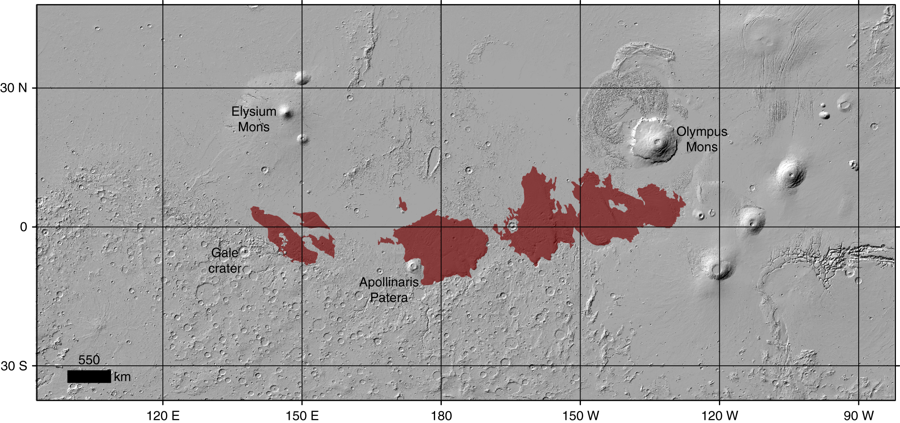 The dust that coats much of the surface of Mars originates largely from a single thousand-kilometer-long geological formation near the Red Planet's equator, scientists have found.
A study published in the journal Nature Communications found a chemical match between dust in the Martian atmosphere and the surface feature, called the Medusae Fossae Formation.
"Mars wouldn't be nearly this dusty if it wasn't for this one enormous deposit that is gradually eroding over time and polluting the planet, essentially," said co-author Kevin Lewis, an assistant professor of Earth and planetary science at the Johns Hopkins University. (…)
On Earth, dust is separated from soft rock formations by forces of nature including wind, water, glaciers, volcanoes and meteor impacts. For more than 4 billion years, however, streams of water and moving glaciers have likely made but a small contribution to the global dust reservoir on Mars. While meteor craters are a common feature on the fourth planet from the sun, the fragments created by the impacts typically are bigger than the fine particles that comprise Martian dust.
"How does Mars make so much dust, because none of these processes are active on Mars?" said lead author Lujendra Ojha, a postdoctoral fellow in Lewis' lab. Although these factors may have played a role in the past, something else is to blame for the large swathes of dust surrounding Mars now, he said… [More at links]