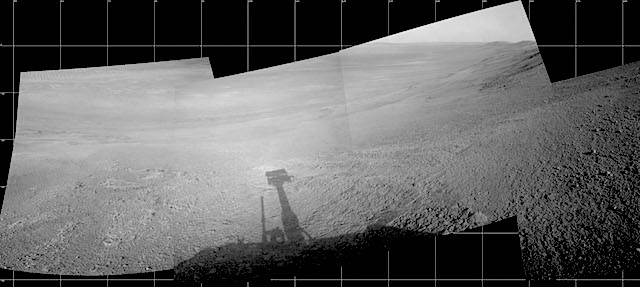 [Editor's note: The above images were taken on July 7, 2017.]
A planet-encircling dust storm on Mars, which was first detected May 30 and halted operations for the Opportunity rover, continues to abate.
With clearing skies over Opportunity's resting spot in Mars' Perseverance Valley, engineers at NASA's Jet Propulsion Laboratory in Pasadena, California, believe the nearly 15-year-old, solar-powered rover will soon receive enough sunlight to automatically initiate recovery procedures — if the rover is able to do so. To prepare, the Opportunity mission team has developed a two-step plan to provide the highest probability of successfully communicating with the rover and bringing it back online.
"The Sun is breaking through the haze over Perseverance Valley, and soon there will be enough sunlight present that Opportunity should be able to recharge its batteries," said John Callas, Opportunity project manager at JPL.
"When the tau level [a measure of the amount of particulate matter in the Martian sky] dips below 1.5, we will begin a period of actively attempting to communicate with the rover by sending it commands via the antennas of NASA's Deep Space Network. Assuming that we hear back from Opportunity, we will begin the process of discerning its status and bringing it back online." [More at link]