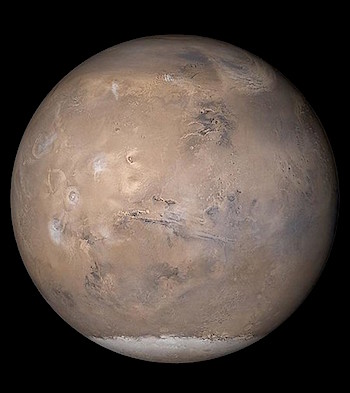 A team led by scientists at Caltech and the Jet Propulsion Laboratory (JPL), which Caltech manages for NASA, has calculated that if liquid water exists on Mars, it could — under specific conditions — contain more oxygen than previously thought possible. According to the model, the levels could even theoretically exceed the threshold needed to support simple aerobic life.
That finding runs contrary to the current, accepted view of Mars and its potential for hosting habitable environments. The existence of liquid water on Mars is not a given. Even if it is there, researchers have long dismissed the idea that it might be oxygenated, given that Mars's atmosphere is about 160 times thinner than that of Earth and is mostly carbon dioxide.
"Oxygen is a key ingredient when determining the habitability of an environment, but it is relatively scarce on Mars," says Woody Fischer, professor of geobiology at Caltech and a co-author of a Nature Geoscience paper on the findings, which were published on October 22.
"Nobody ever thought that the concentrations of dissolved oxygen needed for aerobic respiration could theoretically exist on Mars," adds JPL's Vlada Stamenković, lead author of the Nature Geoscience paper… [More at links]