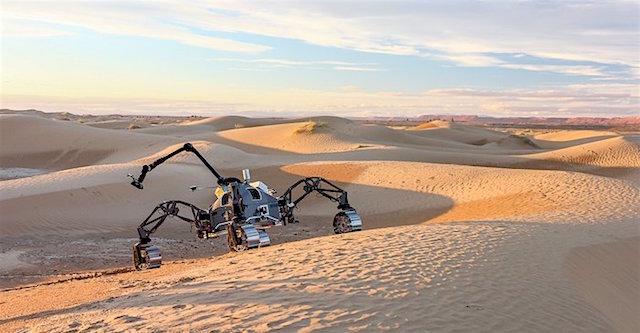 Robots invaded the Sahara Desert for Europe's largest rover field test, taking place in a Mars-like part of Morocco. For two weeks three rovers and more than 40 engineers tested automated navigation systems at up to five different sites.
This marked the end of the first phase of the strategic research cluster on space robotics technologies, a scheme funded by the European Union's Horizon 2020 programme.
The cluster is coordinated by the PERASPERA Ad Astra (Latin for 'to the stars through hardships') project, which is a partnership of Italy's ASI space agency, France's CNES space agency, the DLR German Aerospace Center, Spain's CDTI technology agency and the UK Space Agency, UKSA, coordinated by ESA.
The venue for the field test – organised by Germany's DFKI Robotics Innovation Centre – was a site served by the Ibn Battuta Centre, near Erfoud on the northern edge of the Sahara Desert. The wind-blown desert environment was selected by the EU's Europlanet Research Infrastructure as a good match for Mars, and many others agree: the teams ended up sharing the location with a Hollywood feature film crew and Chinese documentary makers.
"What this kind of field test gives you is the proof of the pudding that your design is working well, even in some of the most challenging environments we can imagine," explains Gianfranco Visentin, head of ESA's Automation and Robotics section… [More at link]