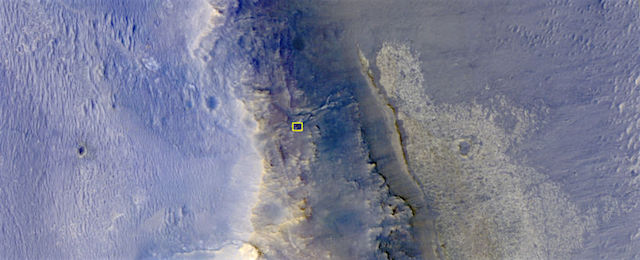 February 2, 2019: Opportunity Logs 15th Year in Silence, Team Begins 'Hail Mary' Efforts: As a string of dust storms moved through Meridiani Planum and over Endeavour Crater in January, Opportunity silently wrapped her fifteenth year on the surface of Mars. While the storms raised enough dust to turn the skies noticeably hazy all around the planet, they also raised hope that Mars might gift the veteran robot field geologist with gusts that would finally clear the 'bot's solar arrays and enable her to recharge, wake-up, and phone home.
But at month's end, the Mars Exploration Rovers (MER) team and colleagues at the Deep Space Network (DSN) neither saw nor heard any sign of the legendary robot. At the Jet Propulsion Laboratory (JPL), where all of NASA's Red Planet explorers have been born, Opportunity's 15th anniversary came and went quietly in the halls of MER.
After spending seven and a half months reaching out to and listening for the longest-lived robot on Mars and transmitting more than 600 recovery commands, the silence is deafening for the team. Still, no one is giving up, not yet.
"We're still trying," said MER Principal Investigator Steve Squyres, of Cornell University. "We're still in the window when we've seen cleaning events in the past and we are continuing to attempt to communicate with the rover in every way we can."
With NASA's support, the MER team is committed to doing everything possible to make contact with the record-setting, crater-hopping, marathon-roving veteran explorer loved around the world. To that end, within hours of the Opportunity's 15th anniversary, the operations engineers began launching a series of last-ditch efforts. (…)