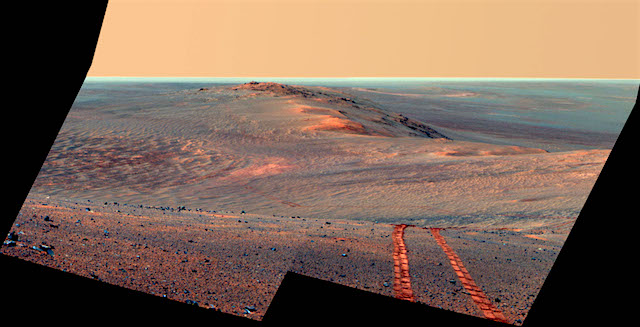 After 15 years, the mission of NASA's Opportunity rover has come to an end, but its successes on Mars have earned it a spot in the robot hall of fame. Here's what you need to know about our intrepid Martian overachiever:
1. Opportunity was a twin.
The Mars Exploration Rovers mission featured two identical, golf-cart-sized, solar-powered rovers: Spirit and Opportunity. Spirit landed at Gusev Crater on Jan. 4, 2004. Opportunity landed on the opposite side of Mars at Meridiani Planum on Jan. 24, 2004 PST (Jan. 25 EST). Both rovers were managed for NASA by NASA's Jet Propulsion Laboratory in Pasadena, California.
2. Opportunity and Spirit showed that Mars had the wet and warm conditions in its ancient past that were potentially hospitable to life.
Foremost among Spirit and Opportunity's many science discoveries: Mars was likely wetter and warmer in the past. These conditions could have served as a cradle for life on Mars at a time when life first emerged on Earth.
Opportunity contributed several key findings to this conclusion. It was the first rover to identify and characterize sedimentary rocks on a planet other than Earth. Opportunity's measurements showed these rocks formed in ancient ephemeral playas. Opportunity also discovered small spheres of hematite nicknamed "blueberries" that formed late from rising, acidic groundwater.
Once Opportunity reached the rim of Endeavour crater, the rover found white veins of the mineral gypsum – a telltale sign of water that traveled through underground fractures. Opportunity also found more compelling signs of Mars' watery past in the rocks of Endeavour Crater: clay minerals that formed in neutral-pH (not too acidic, not too basic) water. Of all the places studied by Opportunity, the environment at Endeavour had the friendliest conditions for ancient microbial life… [More at link]