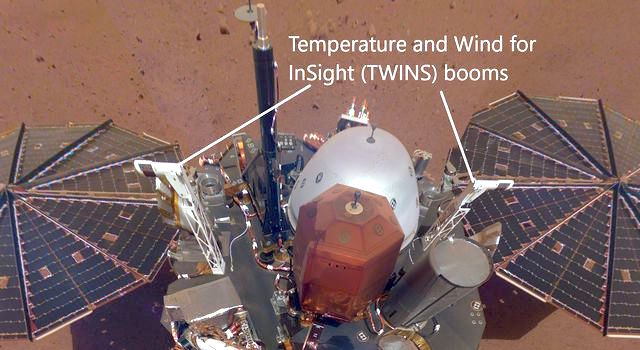 No matter how cold your winter has been, it's probably not as chilly as Mars. Check for yourself: Starting today, the public can get a daily weather report from NASA's InSight lander.
This public tool includes stats on temperature, wind and air pressure recorded by InSight. Sunday's weather was typical for the lander's location during late northern winter: a high of 2 degrees Fahrenheit (-17 degrees Celsius) and low of -138 degrees Fahrenheit (-95 degrees Celsius), with a top wind speed of 37.8 mph (16.9 m/s) in a southwest direction. The tool was developed by NASA's Jet Propulsion Laboratory in Pasadena, California, with partners at Cornell University and Spain's Centro de Astrobiología. JPL leads the InSight mission.
Through a package of sensors called the Auxiliary Payload Subsystem (APSS), InSight will provide more around-the-clock weather information than any previous mission to the Martian surface. The lander records this data during each second of every sol (a Martian day) and sends it to Earth on a daily basis. The spacecraft is designed to continue that operation for at least the next two Earth years, allowing it to study seasonal changes as well.
The tool will be geeky fun for meteorologists while offering everyone who uses it a chance to be transported to another planet.
"It gives you the sense of visiting an alien place," said Don Banfield of Cornell University, in Ithaca, New York, who leads InSight's weather science. "Mars has familiar atmospheric phenomena that are still quite different than those on Earth." [More at links]