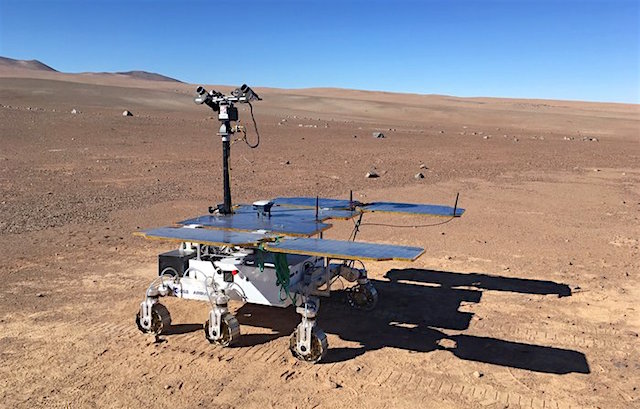 Rovers are versatile explorers on the surface of other planets, but they do need some training before setting off. A model of Rosalind Franklin rover that will be sent to Mars in 2021 is scouting the Atacama Desert, in Chile, following commands from mission control in the United Kingdom, over 11,000 km away.
The ExoFiT field campaign simulates ExoMars operations in every key aspect. During the trial, the rover drove from its landing platform and targets sites of interest to sample rocks in the Mars-like landscapes of the Chilean desert.
ESA's human and robotic exploration director, David Parker, explains "we call these tests 'ExoFit' – meaning ExoMars-like Field Testing. The results will help us prepare the real Rosalind Franklin rover for the challenge of safe operation far across the Solar System."
The team behind the exercise, a mix of scientists and engineers, is simulating all the challenges of a real mission on the Red Planet, including communication delays, local weather conditions and tight deadlines.
"We make teleoperations as martian as possible," explains Juan Delfa, ESA's robotics engineer overseeing the activities. [More at link, click image below to enlarge it]