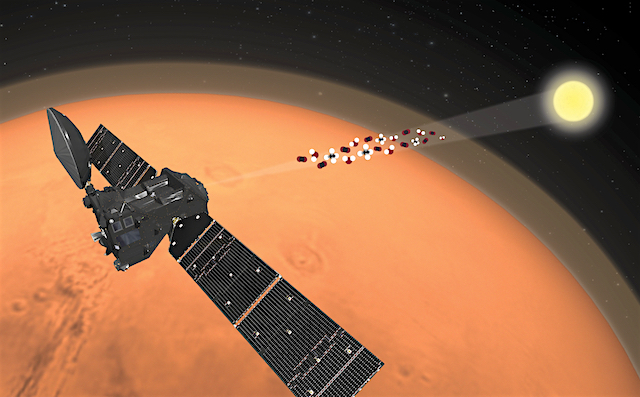 New evidence of the impact of the recent planet-encompassing dust storm on water in the atmosphere, and a surprising lack of methane, are among the scientific highlights of the ExoMars Trace Gas Orbiter's first year in orbit.
Two papers [here and here] are published in the journal Nature today describing the new results, and reported in a dedicated press briefing at the European Geosciences Union in Vienna.
A third paper [PDF; in Russian], submitted to the Proceedings of the Russian Academy of Science, presents the most detailed map ever produced of water-ice or hydrated minerals in the shallow subsurface of Mars.
The joint ESA-Roscosmos ExoMars Trace Gas Orbiter, or TGO, arrived at the Red Planet in October 2016, and spent more than one year using the aerobraking technique needed to reach its two-hour science orbit, 400 km above the surface of Mars.
"We are delighted with the first results from the Trace Gas Orbiter," says Håkan Svedhem, ESA's TGO project scientist. "Our instruments are performing extremely well and even within the first few months of observation were already providing exquisite data to a much higher level than previously achieved."
TGO's main science mission began at the end of April 2018, just a couple of months before the start of the global dust storm that would eventually lead to the demise of NASA's Opportunity rover after 15 years roving the martian surface… [More at links]