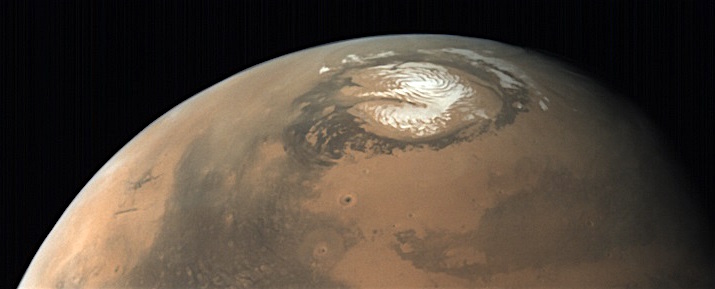 Scientists have discovered remnants of ancient ice sheets buried in sand a mile beneath Mars's north pole, they report in a new study. The findings show conclusive evidence of the waxing and waning of polar ice on the red planet due to changes in its orbit and tilt, according to the study's authors.
Researchers at the University of Texas at Austin and the University of Arizona made the discovery using measurements gathered by the Shallow Radar (SHARAD) instrument on NASA's Mars Reconnaissance Orbiter. SHARAD emits radar waves that can penetrate up to a mile and a half beneath Mars's surface.
The new findings, published today in AGU's journal Geophysical Research Letters, are important because the layers of ice are a record of past climate on Mars in much the same way that tree rings are a record of past climate on Earth, according to the researchers. Studying the geometry and composition of these layers could tell scientists whether climate conditions were previously favorable for life.
The team found layers of sand and ice that were as much as 90 percent water in some places. If melted, the newly discovered ice would be equivalent to a global layer of water around Mars at least 1.5 meters (5 feet) deep, which could be one of the largest water reservoirs on the planet, according to the researchers.
"We didn't expect to find this much water ice here," said Stefano Nerozzi, a graduate research assistant at the University of Texas Institute for Geophysics (UTIG) and lead author of the new study. "That likely makes it the third largest water reservoir on Mars after the polar ice caps." [More at links]