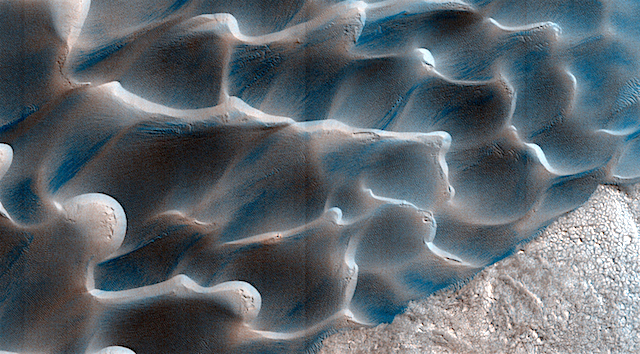 Wind has shaped the face of Mars for millennia, but its exact role in piling up sand dunes, carving out rocky escarpments or filling impact craters has eluded scientists until now.
In the most detailed analysis of how sands move around on Mars, a team of planetary scientists led by Matthew Chojnacki at the University of Arizona Lunar and Planetary Lab set out to uncover the conditions that govern sand movement on Mars and how they differ from those on Earth.
The results, published in the current issue of the journal Geology, reveal that processes not involved in controlling sand movement on Earth play major roles on Mars, especially large-scale features on the landscape and differences in landform surface temperature.
"Because there are large sand dunes found in distinct regions of Mars, those are good places to look for changes," said Chojnacki, associate staff scientist at the UA and lead author of the paper, "Boundary conditions controls on the high-sand-flux regions of Mars." "If you don't have sand moving around, that means the surface is just sitting there, getting bombarded by ultraviolet and gamma radiation that would destroy complex molecules and any ancient Martian biosignatures." [More at links]