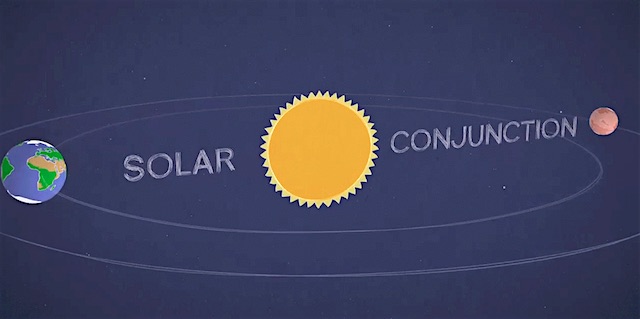 The daily chatter between antennas here on Earth and those on NASA spacecraft at Mars is about to get much quieter for a few weeks.
That's because Mars and Earth will be on opposite sides of the Sun, a period known as Mars solar conjunction. The Sun expels hot, ionized gas from its corona, which extends far into space. During solar conjunction, this gas can interfere with radio signals when engineers try to communicate with spacecraft at Mars, corrupting commands and resulting in unexpected behavior from our deep space explorers.
To be safe, engineers hold off on sending commands when Mars disappears far enough behind the Sun's corona that there's increased risk of radio interference.
"It's that time again," said Roy Gladden, manager of the Mars Relay Network at NASA's Jet Propulsion Laboratory in Pasadena, California. "Our engineers have been preparing our spacecraft for conjunction for months. They'll still be collecting science data at Mars, and some will attempt to send that data home. But we won't be commanding the spacecraft out of concern that they could act on a corrupted command." [More at link]