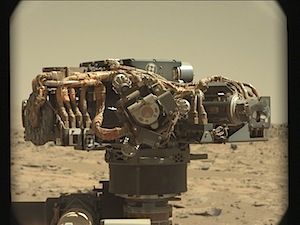 Using the 34mm wide-angle Mastcam, Curiosity imaged the turret on the end of the robotic arm. In the center facing the camera is the MAHLI (hand lens imager), while the wire bristles of the DRT (dust removal tool) are at right.
NASA description: This image was taken by Mastcam: Left (MAST_LEFT) onboard NASA's Mars rover Curiosity on Sol 618 (2014-05-03 01:41:36 UTC).
Sol 618 raw images (from all cameras), and Curiosity's latest location map.