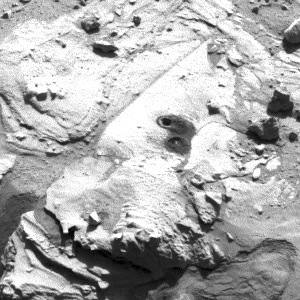 Two drill holes into Windjana — the closer was the preparatory test hole, while the farther went deeper and accordingly has a larger tailings pile (image has been cropped).
NASA description: This image was taken by Navcam: Left B (NAV_LEFT_B) onboard NASA's Mars rover Curiosity on Sol 621 (2014-05-06 05:55:39 UTC).
Sol 621 raw images (from all cameras), and Curiosity's latest location map.