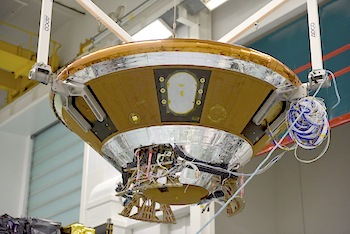 The two ExoMars spacecraft of the 2016 mission are being prepared for shipping to the Baikonur Cosmodrome in Kazakhstan ahead of their launch in March.
A joint endeavour with Russia's Roscosmos space agency, ExoMars comprises two missions. The Trace Gas Orbiter (TGO) and Schiaparelli make up the 2016 mission, while the 2018 mission will combine a rover and a surface science platform. Both missions will be launched on Russian Proton rockets from Baikonur.
TGO and Schiaparelli are undergoing final preparations at Thales Alenia Space in Cannes, France, where they were today on display for media to view for the last time before they leave Europe. They will be shipped separately in the middle of next month, arriving at the cosmodrome on 21 and 23 December, respectively.
"It's been a long road for ExoMars to reach this point, but we are now ready to launch in spring next year," says Alvaro Gimenez, ESA Director of Science and Robotic Exploration. "We are about to begin a new era of Mars exploration for Europe and our Russian partners." [More at link]